Podcast: Play in new window | Download
Friends,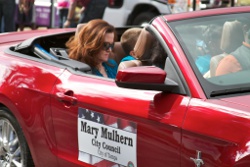 My sister Mary emailed this photo to me and our 5 brothers and sisters. Her note said, "Dad would have been proud."  And she was so right. Our old man served on the city council in Inkster, Michigan (about 1/20 the size of Tampa, where Mary serves).  Looking back and seeing how, during his years of council service he had 5, 6, then 7 of us kids, I'm not sure whether to be more impressed with his public service, or with Mom for enabling that work, by extending her already-long parenting shifts well into the night.  But I digress.  Dad (who died 16 years ago) would have been proud. Powerful line, no?  "Dad would have been proud."  Or maybe you've heard it or still get to hear it from Mom or Dad, "I'm proud of you, my son." "I'm proud of you, my precious daughter."  
Would your dad – or is your dad – similarly proud? I suspect there lurks in most all of us vast quantities of energy swirling about our hopes for dad's and mom's approval.  Are you tapping that hoped-for pride?  First, a caveat.  Sometimes there's a knifing edge to our parents' hopes for us. It's not all good energy.  Jung once said the "unlived life of the parent" was one of the most powerful forces in every person's life.  Our dad was the oldest son of immigrant parents; he was responsible, a war vet, and soon "golden handcuffed" by Ford; he was tethered to the needs of his seven kids, and Ford paid him too much to risk leaving and following his avocation.  He passed on some of that feeling of falling short, and made every effort to drive us to success.  I suspect I'm not the only one of his kids who's still in some ways trying to make up for what Dad wasn't able to do.  Strikes me as a wonderful evolutionary myth to inculcate in the next generation the desire to continue "the work."  And yet it threatens a contorting misfit, for none of us is our mom or dad.  We ought to live the life we're uniquely suited to live — our own.
If "dad's" or "mom's" hand of fate might be at times a little soiled or a little too manipulative, yet this desire for a parent's pride can also bring out our best.  If we seek their best. What would that be for you?  If you still seek your parents' pride – whether they are in their 40's or forty years gone — just what would you most want to be or do to win their pride?  What was in their hearts, minds and actions, when they "led with their best self?"  For instance, our dad just loved, loved, loved people. If you were a niece, a kid's friend or a casual stranger and met him at a wedding or a mixer, you'd find him made of equally out-sized parts curiosity and care. He would seem to want you — and if he could, will you — to reach your absolute best. I look at my sister Mary in the convertible above, my brothers and my other sisters, and think, "Dad would be proud," and I think:  "I want to listen Dad did and like they do — with such care and curiosity."
As you seek to lead with your best self, I invite you to consider your mom and/or your dad's best self. What did they embody, and what did they hope for for you, that you want to — and probably are — manifesting in the world?  How can you do it more or more consistently? And how can you enjoy the satisfaction of that work — even if they're not here or otherwise unable to tell you of their pride.  Of course, in turn, don't we all hope to model the way for those who follow us, seeking to
Lead with our best self!
Dan