Everyday Leadership – The Book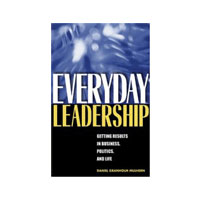 What they're saying about Everyday Leadership:
"Dan Mulhern is our collective leadership conscience.  He reminds us that leadership is not reserved for the rich and famous and powerful, but is something that parents, teachers, coaches, managers, and all the rest of us do when we are guiding others to become their best selves. Everyday Leadership is a treasure chest of engaging stories, practical tips, and rich insights into how we each can make a difference in the world when we take responsibility for the personal power that we have. It's a must-read,  because once you've taken Everyday Leadership to heart you'll leave this world a little bit better than you found it."
—Jim Kouzes, Coauthor of The Leadership Challenge
"Finally, a book that's about the true essence of leadership: service. By shifting the paradigm, Dan Mulhern helps us understand that leaders don't suddenly emerge from boardroom or the battlefront. They emerge slowly, from the soul."
—Desiree Cooper, Detroit Free Press
"Everyday Leadership is wonderful roadmap for all of us that want to become better leaders. Dan Mulhern explains how we can all become great leaders when we understand the basics of true leadership. It helps us lead and serve our organizations, our fellow men and our families better. It will help you bring out the best in others and more importantly the best in yourself. You will love this book. Buy it, read it and then live it!"
—Chester Elton, Coauthor of the Carrot Business books on Employee engagement.
"I wish Dan had written Everyday Leadership before I became a parent, a candidate for public office, a leader within my profession and in business organizations, and before I started a business.  It would have made me a better leader.  Everyday Leadership gives sound, practical advice driven home with real-world examples that can help anyone become a better leader.  This is a must read book for anyone who wants to make a positive difference in the lives of others in their community, their business, or their family."
—Dennis W. Archer, Former Mayor of Detroit
"Everyday Leadership taught me as much about how to be a better person, as it did about being a better leader. In fact, it revealed how much the two are the same. Excellent and helpful reading for anyone."
—Marianne Williamson
"After decades of extraordinary experience and very hard thinking, Daniel Mulhern provides a uniquely insightful, practical, and inspiring guide to leadership.  Among a handful of truly fine books on the arts of practice, Everyday Leadership tackles the full range: from the politics of change that both creates progress into the future while honoring the wisdom, virtues and competence of the past, to the personal anchors that enable authentic living and professional endeavor.  I love this book."
—Ronald A. Heifetz, Founder of Leadership Programs, John F. Kennedy School of Government, Harvard University
"In Everyday Leadership, Dan has managed to write a book that truly speaks to everyone – from the executive in the boardroom to the teacher in the classroom, from the coach on the playing field to the parent running a household.  As you read through the pages, you undergo a kind of self discovery and gain new insights into the way you lead and the way you are perceived by others.  Always practical, often inspiring, this is more a reference book than a self-improvement text, and a great read for any would-be leader."
—Roger Penske, Owner of the Penske Corporation and Penske racing
"Isn't it funny how we like to think we are leading only when we think we are leading.  In Everyday Leadership, Daniel Mulhern reminds us that leadership truly is an everyday thing, an every moment thing, and an every role thing.  Whether I am in the board room or in the family room, my grasp of my humanness and my responsibility to others is critical to my success as a leader.  Kudos to Mr. Mulhern for bringing these lessons closer to home with a special and accessible book for all of us."
Christine O. Willig
CEO, President and CEO, Math Solutions, Inc.