Podcast: Play in new window | Download
Literally means literally. Okay? And Cliff had my back literally.
Since he was 7 years old my son Jack has told me — not asked — that on his 16 birthday we would jump out of a plane together.  My rather significant acrophobia told him in response: that would not be happening. He smiled, sure that it would.  I gleefully told him when he was 14 and just two years away from this destiny, that he had to be 18. Somehow, though, I knew he wasn't forgetting and I had lost this battle.
So two weeks ago I made the reservation.  Wednesday we went up.  On a 45 degree angle.  In a rickety plane. I sat at the very front, on the floor, facing the back, with the DOOR to my left.  My head was against the control dials. I was at the elbow of the 70-ish (or maybe a hard-lived 55-ish) pilot who seemed like he was out of a Bugs Bunny cartoon. For 15 nerve-wracking minutes we climbed. The smell of the smoke of California wild fires filled the plane. We rose ABOVE the clouds.  Years of daily meditation allowed me to breathe and stay surprisingly calm.
Cliff was toe-to-toe with me. His 3-minute ground tutorial told me as did his hand gesture now that I should somehow turn around and face the front of the plane. And somehow I did.  Cliff got close behind me. Really close. He attached his harness to mine in 4 (or was it 8) places on my sides, hips, shoulders. He tightened each in turn and we were snug.  Snug. He was IN my ear and said, "Just like I told you on the ground: I'll open the door. You'll put your feet on the step. And when I say 'go,' you'll fall forward."
And I did.
And the minute of free-fall went too fast.  And too slow.
Cliff had my back. He let me know when the chute was to open. And from free fall we felt the jolt and the strangest sensation that we were now going UP.  A couple minutes later he told me, "Before we land, I'll tell you to lift your knees. Don't start running."  He told me to lift my knees, the ground came up to us amazingly fast, and we landed like a gymnast sticks a dismount. Terra firma.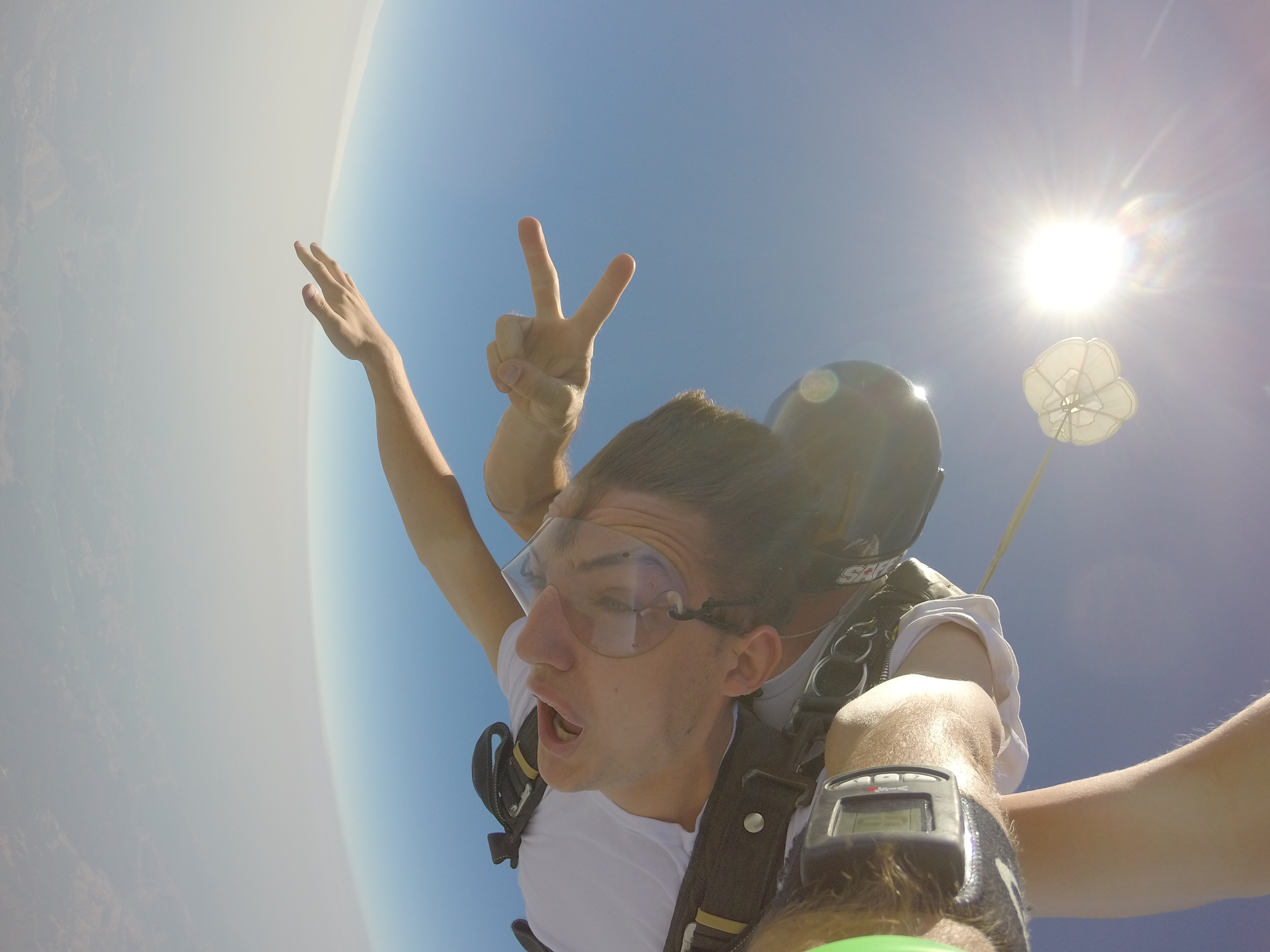 So, who has your back? CAN you totally trust someone? To lead you to a place you would NEVER go alone, to teach you with competence and confidence, so you feel you never need to look back. It's a relationship, right? It's about trust and trusting.
Do you have someone's back?  Really have their back. So, they can fall forward. So, they can take risks they would never imagine taking. Do your employees feel you're there?  Your kids?  Your spouse?  Your boss?
There is amazing power in partnership!   Use it to
Lead with your best self.