Podcast: Play in new window | Download
Thanks to almost 200 of you who responded to last week's survey, we have some pretty interesting data to look at over the next couple weeks.  Today's data — as my title suggests — gives us all a whack in terms of the contrast in the data.  Here is a pretty self-explanatory table: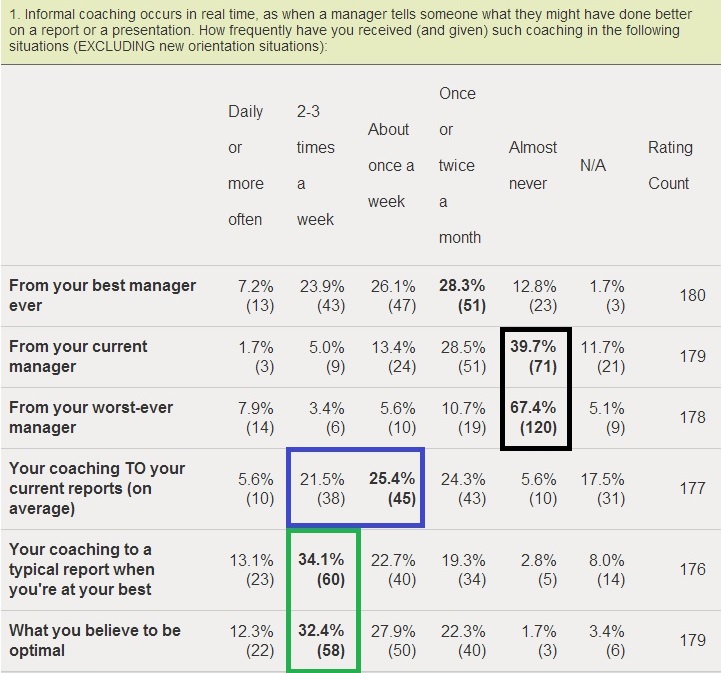 So the "whack" comes from the data in the black rectangle.  When looking at which of the five intervals on which routine, real -time coaching occurred, the "current manager" and the "worst-ever" manager scored the same — NEVER.  To put it differently, over 2/3 of the worst managers, and a whopping 40% of current managers "never" give real-time coaching.  That is s-c-a-r-y.  And, if you look up one row to the "best manager ever," it doesn't get a ton better. In fact, the highest category for best managers was once or twice a month.
Contrast those scores with the green rectangle of what people think they themselves do when they're at their best, and what they think is "optimal." In those scenarios fully 1/3 would or do coach 2-3 times a week. In these best-case and optimal cases, about 7 of 10 coach or would coach at least once a week on ongoing work.  Only 2 in 10 current managers coach at this "at least weekly" rate, barely better than the 16.9% of the "worst-ever" managers.
The silver lining in the data is found in the blue rectangle.  52.5% of the readers who responded say they coach at least once a week — not so far off from the 70% optimal.
Unless you're seeing something entirely different than I am, this data about real-time, day-in-and-day-out coaching is screaming at us as managers:  PEOPLE WANT MORE FREQUENT COACHING AND FEEDBACK!  
In the next couple weeks we'll look at  equally fascinating data on longer-term coaching and just what kind of coaching people want.  Hint: more surprises ahead, as you
Lead with your best self!