Podcast: Play in new window | Download
I was 10 when Detroit burned with rage and rebellion. Since then I have done little things, and little things matter, but have I done nearly enough? And, more importantly, what more can I do? If you believe in "everyday leadership," or "kill (the idea of) THE leader," then this question must be yours as well as mine. It's not just the challenge of the mayors and police chiefs of American cities. If you claim the USA as yours, as I do, then you own it all! How great is that? That is democracy. And especially in a democracy, OUR leadership necessitates vigilant inclusion.
May I share the contrast I felt this week? Kristi, one of my most influential and positive students addresses me and refers to me as "Professor Dan." I respect her respect. I assume that expression of respect comes from her family upbringing, and I suspect it also derives from her (Asian) cultural roots, where "face" matters, and where hierarchies, e.g., of age and position, earn expressions of respect. And I appreciate as well her familiarity, Professor Dan, she calls me, not Professor Mulhern. It's empowering (and humbling) to be called Professor, and it's just sweet to be Professor Dan.
Now consider the Grand Canyon Chasm between Kristi's treatment of me and the treatment of black men in Baltimore (Ferguson…). What if the police had thought of him not as "Freddie Gray," but as "Mr. Gray?" Or, parallel to Kristi's expression, as "Mr. Freddie." From all appearances, they did not grant him the status of Mr., a man, an adult, a citizen, a peer. And they surely did not treat him as a unique and particular, familiar person. They neither accorded him "face," nor did they see his particular, human face, nor hear his tortured human cries.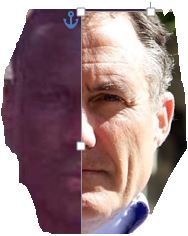 As individuals we are presented countless instances every day where we have a choice: Will we see a black face, a brown face, a yellow face – or will we see a chance to protect the "face" of the other, their entitlement to our full respect as exalted citizens, respected people? And will we want to see the human, particular, familiar, face, that is represented by a name — Dan or Kristi or Freddie?  Like all leadership: It's PERSONAL.
We also have to "fight the power." Here, I must confess. I confess that when I first heard the story, I thought: maybe the cops had good reason; let's not rush to judgment. I am rightly shameFACED about this. Of course, the police deserve fair trials; that's not my point. But I KNOW – from sociological-group knowledge and from hearing th e experiences of so many black friends — that the system is broken and so often slanted, and my first instinct should be to protect the innocent (starting within my own mind and heart). Power and order are necessary. They were necessary to quell the unrest. But power and order continue to be abused.
You may not have the rather shameful instinctive knee-jerk tendency to defend the system, or my white privileged experience that the system works (as it does for me and mine). Good for you. But we all share a social-democratic leadership obligation to listen to those who are crippled by some of our systems, as Mr. Gray was crippled by those cops, who hardened their hearts, who diminished his rights, and took his life.
We can do so much better to see human beings as unique human beings, and to bend our systems — educational, hiring, policing, imprisoning — to listen, to respect, to empower, and to include, to truly and justly and humbly
Lead with our best selves,