Podcast: Play in new window | Download
Friends,
The Greeks were famous for their mythology and for their sense of drama (humor, irony, and tragedy).  Their Olympics as well as ours shine with such myth and drama.  Drama, too, character-izes our own lives.
I point to one Olympic story today, because it offers a model for our everyday leadership dramas.  The model in this case shines through the behavior of Jordyn Wieber, the seventeen year old reigning women's gymnastics champion from the great state of Michigan.  You can see the essentials at the NBC website ("Jordan Wieber misses out on all-around") but let me recount the essence here:  Jordyn has been dominating competitions since 2008 and came in as the favorite.  Known for her incredible consistency and focus, she was off her game at times in the qualifying rounds.  Twenty-four women qualified for the finals, and she was 4th among them; however, only the two highest scoring gymnasts from each country are allowed into the final, and she was third among her American teammates.
So, imagine you really wanted something at work: a promotion, a sale, a different job, etc.  Imagine it was really important, as this final was to Jordyn:
"She has trained her entire life for this day, and to have it turn out anything less than she deserves is going to be devastating" her coach said in a statement afterward.  Martha Karolyi the women's team coordinator said: "When this kind of disappointment happens, you can't say anything. It's almost like when someone passes away. What to say? Anything you say, the situation is the same."
Having suffered a similar setback, what would you do the next day?
The greatest leaders we know were driven in their overall work — and in their times of greatest challenge — by faith.  For some their faith was religious.  Others described their faithas spiritual.  I call it "faith" because this mindset runs heavily against the grain of conventional wisdom.   Conventional wisdom says two things:  (1) Winning is what matters.  Defeat is defeat. And if you've tried so hard and lost, you deserve to feel awful (maybe for the rest of your life).  (2) Take care of your own self.
Yet in the faith I'm talking about leaders show up with two essential qualities:
First, the results of the past don't matter.  They put themselves whole-heartedly into the new moment they're in.  Indeed, it's this capacity and commitment to keep working, playing, fighting – even when they've lost badly — that doesn't just prove, but builds and solidifies their character.  Second, this faith clearly says: It's just not all about me.  In the times that are hardest, these great leaders lead for others.
This young 17 year old Olympian couldn't face the cameras at first, but when she came back to the gym she fought the tears and talked about how happy she was for her teammates.  2 days later she com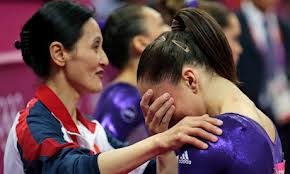 peted in the floor exercises, helping the US women's team win the all-around team competition.
Although winning is surely glorious, I suspect that Jordyn Wieber's ability to stand before the camera, stand behind her teammates and compete in the final (with what appears now to be a stress fracture in her leg) will serve to develop the kind of character that will make her a great leader the rest of her life.
What do you think of this model?  And how are you bouncing back from your setbacks?  As you strive to
Lead with your best self,
Dan