Podcast: Play in new window | Download
The dress to the left has become the hottest mess in the west. While to many it certainly appears to be gold and white, to others it's blue and black. Really. I mean, really.  You may think this is a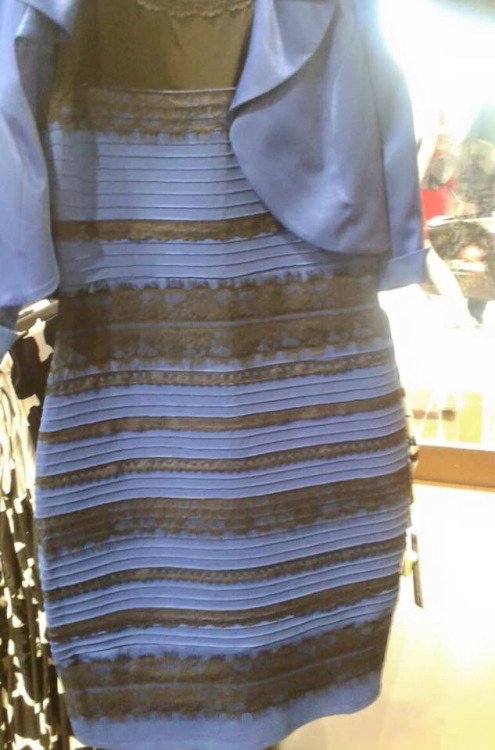 joke, because you so clearly see blue and black.  Or you may think this is not even a funny joke, because you clearly see gold and white (as I do, for what it's worth.  And it is worth nothing!).
If you want to understand the science behind such utterly polar perceptions, here's a fun 2-minute video.  Only when I watched it did I really "get" the optics.
If we're talking about leadership, which of course we are, then there are two important points, and one important question to the mess with the dress. Point one: it turns out that context is nearly everything.  Our eyes are attached to our smart brains, and our brains feed (often missing) context into the pictures we see. People truly see different colors in this picture, because the surrounding light in the photo is so ambiguous that your brain fills it in.  You can simulate changing the light: Slowly squint while looking at the photo, until your eyes are nearly shut.  What do you see?  For me?  It's now blue and black.  In a similar way, if you saw me walking through a nursing home, you'd likely see me as quite young, while students at Cal, when they see me on a basketball court, have it written all over their faces: "What's that old man even doing here? I hope I don't get stuck with him on my team!"
The second major point that comes screaming out of people's reactions to this dress is that we can feel utterly certain that what we see is what's there…with 100% conviction that we are seeing an objective reality not a subjective perception.  Thus, until I was forty, every political debate I watched, I was sure my guy won! I  I thought Mondale whipped Reagan, Dukakis destroyed Bush, Gore beat Bush…
So, what does any of this matter for leadership?
First, leadership requires seeing things in a different light. Were we really that successful, or did we benefit from some good breaks?  What about our plans? Are they so sure?  What if we cast a more sober light? What if it takes us 3 months, not 3 weeks? What if there's a downturn? As my wife loves to say, "I trust in God. Everyone else? Bring data." Leaders demand full context.
Second, what do you do when confronted with strongly divergent views?  Seriously! What do you do, when you are really sure about something, and a colleague, kid, friend, spouse is equally convinced that what you're seeing is not what's there?  What do you do?  (I love that my agent and her husband literally never argue about anything if they can Google it. Unfortunately, not everything is Googleable.)  Sometimes, interpretations are required. What do I do?  1) Seek first  to understand the other's view.  (2) Ask a lot of questions.  (3) Recognize that there seldom has to be a right answer; she's looking at it in a bright, optimistic light, and I'm looking at it in a darker more somber light. She's seeing based on her experience with engineering; I'm seeing based on my experience with psychology. She's seeing as a Myers Briggs ENTJ, a field general ready to implement a broad, sweeping plan, and he's seeing as an ESFP, perfectly ready to experiment, dabble, and adapt.  Our eyes see wildly different things because of our wildly different minds. So, we are best to look not for what's "right," but instead for what can enrich our view…
As we lead with our best self.
P.S   The dress — viewed in normal light — appears to be blue and black.