Podcast: Play in new window | Download
Perhaps you have read of Fr. Gregory Boyle, S.J.  Boyle has been working (LEADING!) in Los Angeles for thirty years, dedicated to Homeboy Industries, "the largest gang intervention, rehabilitation and re-entry program in the world." In his two books, he frequently introduces the "homies" (as he and they refer to themselves) by referencing aspects of their appearance, as you or I might first meet them.  For instance, he introduces Ramiro, as "a gang member, fresh out of prison, with a long record, [who] had F–K THE WORLD tattooed on his forehead."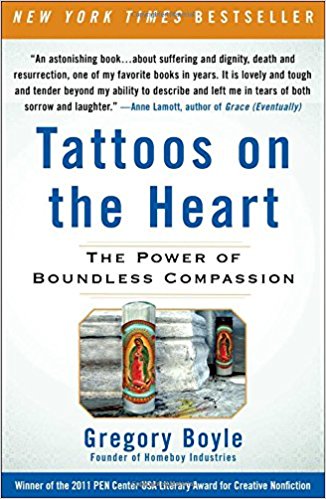 In the Preface to his first and deeply moving book, Tattoos on the Heart, Boyle explains where he got the title:
"Once, after dealing with a particularly exasperating homie named Sharkey, I switch my strategy and decide to catch him in the act of doing the right thing.  I can see I have been too harsh and exacting with him, and he is, after all, trying the best he can.  I tell him how heroic he is and how the courage he now exhibits in transforming his life far surpasses the hollow 'bravery' of his barrio past.  I tell him that he is a giant among men.  I mean it. Sharkey seems to be being thrown off balance by all this and silently stares at me.  Then he says, 'Damn, G…I'm gonna tattoo that on my heart.'"*
The story is lesson enough for me:  Catch people doing great things.
Boyle, though, is also playing with contrast.  The tattoo is a visible way a gang member – or two of my three children – tells a story about themselves, paints their canvas. The canvas has a life of its own, gets interpreted by others. I know I, at times, and many of my generation scratch our heads, or sit in judgment. Boyle's contrast, or should I say Sharkey's contrast though, goes beyond appearances and surfaces, expressions and misunderstandings. Goes deep.
"Encourage the heart," Kouzes and Posner prescribe in one of their five practices of exemplary leaders in The Leadership Challenge.
Maybe leaders don't just encourage the heart, but TATTOO the heart. All our hearts long to be seen, to be valued, to be appreciated for who we are and for the effort we put out. Sharkey said, "I'm gonna tattoo that on my heart." Sharkey found himself, wanted to tattoo himself with the way that Greg Boyle "named" him.
Whose good efforts, good work, good self will afford you a wonderful opportunity today to 
Lead with your best self?!
*Gregory Boyle, Tattoos on the Heart: The Power of Boundless Compassion.  I highly recommend the audible version of this book, because Boyle's own reading of it makes his writing come totally alive – complete with accents, well-timed jokes, and deep emotional content. Boyle's November 2017 sequel, Barking to the Choir: The Power of Radical Kinship is perhaps even more powerful than his first.