Podcast: Play in new window | Download
I heard two amazing speakers at a spa/retreat placed called Rancho La Puerta outside Tecate in Mexico a few weeks back. And, I watched the way people listened to them.  And I want you to invite such riveted listening. My wife Jennifer (Granholm) was one. She talked — but mostly turned over great clods of intellectual soil — to see what was there, to let it all breathe. And she got all this conversation going – the richness of democracy, where people offer views, ask questions, compare, contrast, speculate . . . think.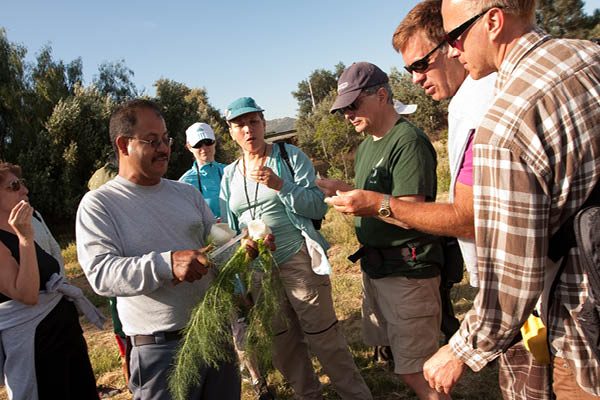 The next morning, I took the organic breakfast hike and after an incredible breakfast, Salvador Tinajero, the head gardener walked us out to his perfect rows. He was more passionate about his garden than Jennifer had been about her "garden." His passion was infectious to the thirty of us that surrounded him. He peeled off the shoots of spices and said, "What is this? Taste it?" He laughed. People chewed, and squinted as if to squeeze answers from their mental file drawer of tastes. He pulled up carrots: "Look at this! Beautiful." There were of course peppers, too; some of which sent guests scrambling to the kitchen for water.
I took two things from these people:
1. Find and release your passion!  If you are passionate, people will get enthused. I came with zero interest in organic farming, but my jaw dropped, and I now want to eat (and grow things!) differently. Many people came to listen to Jen out of curiosity; I could hear the whispers, "go to a talk about politics on a week away from civilization? Are you nuts?" But her passion lit them up, and I'll bet they're watching the presidential race in a whole new way. So, how about you: What are you lighting people up about? As my mentor M.A used to say, "Muller, you can't light a fire with a wet match." Lesson number two:
2. Feed the soil.  Salvador caught my lazy brain when he said: "You don't feed the plants. You feed the soil."  He described in detail just how the soil was fed: the great bugs, the crop rotation, the compost, the way they irrigate.  Jen did the same thing. She didn't force feed the participants her views.  She churned the soil. She gave it breath. She showed the roots.  We need to tend to the environment that produces the results; make it supple. So often, we're in a hurry, but our "followers" (who sometimes are our bosses) are stressed, are arid.  We need to feed them: with enthusiasm, with new ideas, with curious questions that churn the soil about them.  How might you "feed the soil," and trust that the plants will grow?
Get your hands in the soil and mud, and look to the skies as you
Lead with your best self!