I have had a hard year. I won't go into all the reasons why, but to name just a few… My wife accepted a big job in DC, and I've been trying to live productively in two places 2000 miles apart. One of our kids was diagnosed with a lifelong auto-immune condition. Another struggled to find their first job out of college. And the third continues to grapple with the effects of ways in which I have related to them. Dementia continues to take hold of my mom. I had a bike crash, a concussion and a resulting type of deep and episodic depression which threw me – worse than the bike had tossed me. My mom, too, fell twice – breaking a collarbone, then her shoulder, and almost entirely breaking her will to live. We thought we had lost her. She's back!
From January 6th through another blurry year of COVID, who hasn't been buffeted in 2021?
Aren't we all ready to express thanks for Thanksgiving – without having to speak it through a mask or over a Zoom call – to actually see parents, kids, grandparents – and to cradle grandbabies in our non-virtual arms!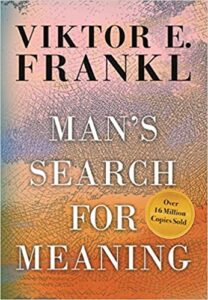 How do you start to look back and make meaning of it? I offer the words of one of the greatest leaders and true action heroes of the 20th century, as a lens through which to look at what has likely been a hard year for you, too. This Fall seemed like the right time to read Viktor Frankl's Man's Search for Meaning.
One line haunted me, helped me and now gives me hope. Frankl wrote that the great Russian novelist Dostoyevsky "dreaded that he wasn't worthy of his sufferings." Read it again. I had to read it three times. And I have returned to it at least 25 times more since I read it a month ago.
How can this make any sense? Why would worthiness be required of a man sent to Auschwitz and Dachau – stripped of his family, home, vocation, freedom, clothes? Who could be worthy – or the synonym – deserve – such suffering????
Does it make any sense? I've read it so many times, because something inside me said: This guy knows something so much more important than I do and I need to understand it! In our time, the Brene Browns, the Chopras and Oprahs continually assert that we are worthy. Further, we are told to reject suffering, as you can read in 1,000 western Zen posts, "pain is mandatory, but suffering is optional." Tell that to Frankl or his modern day counterparts victimized by today's tribal wars. Just change your mind, Vik! Eat differently. Breathe differently. Think differently. Exercise differently. Suffering is just an illusion.
I will simply say that Frankl invites us to search for the meaning in our suffering. He lived with brutal suffering and in turn bore so much fruit from it. I have not been worthy. I can recognize over the last ten months how I have felt sorry for myself about the sacrifice I brought on when encouraging Jennifer to move and serve the president and the country. Feeling a victim has made me unworthy of my suffering. Self-pity is human and OK from time to time. But I wanna keep coming back to the choice and the questions that search for meaning. What is love? What is service? Why am I here? What can I make of my gifts? Including the gifts of displacement, loneliness, and fear?
I want to be worthy of my sufferings. And I wish for you the deep purpose when you're led back to your best self!
Dan
P.S. I believe it was the Catholic ascetic Thomas Merton who said he thanked God three times for his sufferings. First for the trial that strengthened his faith, second for the resilience to endure it, and third for the joy of emerging from it.