Podcast: Play in new window | Download
Friends,
What a week. After all the intensity and anticipation, the election came and is gone. Can you believe TIME already has profiles of the 2016 contenders?  Is that not a sign that the pace of our lives needs just a little recalibration?
From a leadership vantage point, two moments stood out this week.  The first was the President's captured five-minute talk of thanks to his young volunteer team.  I believe you can find all the key practices and attributes of great leaders in it – vision, encouragement, humility, empowerment, and honesty.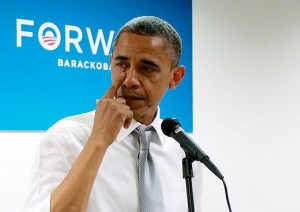 But, what's most striking as today's title implies is the intimacy, as he let down his emotional guard.  In case you haven't seen it, or don't have five minutes to watch it, here's the bottom line:  he cries while he's speaking of how inspired he is by these young folks and what he believes they can accomplish  in the future. I suspect they will never forget that moment, that it will be indelibly etched on their hearts.  I imagine it as if he implanted a sense of energy and purpose that they'll be able to draw upon and replenish throughout their lives.
The other moment was of a shared intimacy that none of us like being a part of: the admission by General Petraeus that he had been involved in an extramarital affair with his biographer, Paula Broadwell.
I watched as my son who has thoughts of serving in the military was visibly deflated at this news.  My interpretation for him was as much a reminder to me.  My takeaway?  The thinking rational mind is often not the decision maker of the self.  Smart people know about addiction. Smart people know about sex. Smart people know about greed.  Smart people know not to lie.  And smart people every bit as much as those with regular old cerebral processors do all of these things which they know they should not. We're a darned mystery.
I hear lots of female commentators say, "keep it zipped; keep the candy in the wrapper…."  True enough. But honestly, pretty well known, no? This "will" and "discipline" thing is not quite so straightforward. The little discipline switch can be really hard to find when you need it most!
So, maybe the more useful answers lie in learning to be more open to the full range of our experiences and our processing them.  If you want to lead:  get to know yourself, your whole self.  The magnificent sides, and the strange facets, too. Figure out how to get intimate – in appropriate ways.  Like with a counselor, a minister, a friend, a meditative retreat, a sponsor like they have in AA.  I suspect some of the acting out in physical and sexual intimacy reflects a misguided search for emotional intimacy, for a way to put it all together.  We put our big stage leaders through extraordinary trials, where they are surrounded by power, death, injustice, adulation and recrimination.  We wear them out and put them on TV and go through their trash.  How is the self supposed to sustain this?
For many of us, our pressures are more mundane – a tough job, tight budget, challenging kids, aging parents, scary streets, confusing love relationships, and challenges with our health.  But these press in on us in the same ways. Thank God our miscues don't end up on TV, but they can wreak havoc in "the world" that matters most to us.
So, get intimate this week!  Share your hopes for the younger generation, let those you lead see your heart and care, and perhaps somethings you might not share if you weren't a little exhausted by it all.  And find a safe and useful place to share how you REALLY are; not just the sureness and confidence, but those little things leaders aren't supposed to show: the fear, uncertainty, sadness, and anger that are also at the heart of our human condition.
Take care of yourself in order to take care of others and to
Lead with your best self!
Dan