Podcast: Play in new window | Download
What would you say is the #1 leadership characteristic?  Not necessarily what will gain recognition from others, but what you should focus upon to achieve greatness? And in particular what would you focus on NOW – in the waning days of November?
For me, the answer is easy: Perseverance.  In January, I'd say: do the vision and goals. In December? Finish! Let me share my role model for this.  In one of the very first leadership classes of the semester, I asked a senior, Rob Paylor, if he would be willing to speak to the power of vision in his life. He said, "Sure," with his irrepressible cheery smile.  And when he finished, I took the microphone back from him, and I acted out the expression that's popular these days, as I said, "I might as well 'drop the mic,' because Rob has taught you more about vision and leadership than I will all semester."
A year and a half before Rob was in my class, he was living his dream, starting for Cal in the NCCA tournament final rugby game. In a scrum, he was illegally held around the neck, while his powerful, balance-generating legs were taken from beneath him. His head hit the turf and he was immediately and completely paralyzed from the neck down. After surgery, the doctor said, "You'll be lucky if you [regain enough feeling and control that you] can bring a piece of pizza to your mouth."  Please consider what you have to complete this year, what seems impossible.  Then imagine my friend and model, Rob, confronted with this stark prediction.
Today, Rob has arm strength that approaches that of a rugby player. He has recovered muscle control that is extraordinary. Although he requires a wheel chair, he can walk with a walker, and with one other aid:  ferocious determination.
For weeks and months Rob would lie in bed.  For hours at a time he would MENTALLY focus on each muscle group in his body, methodically moving through them. He would tell his body:  Move my fingers. Move my hands. My wrists. Forearms. Biceps. Triceps. Chest. Glutes. You get it.  All the way down to his toes.
Understand:  many of these parts could NOT and did not move.  The brain-to-nerve-to-muscle connections had been obliterated.  But he did "reps" anyway, exerting his mind.  10 curls. 10 quads.  Parts slowly began to move (with neural re-purposing that I don't understand). The most stunning movement came one day when a hamstring muscle he was working on with his mind . . . twitched. He saw it.  Or was he imagining it? It twitched again. He called the nurse: Look!  He called the doctor. Look!  He worked in the gym harder and longer than he ever had on the rugby field, propelled by the impossible idea that he would walk.  And he would.  "One step at a time" has never held meaning like this.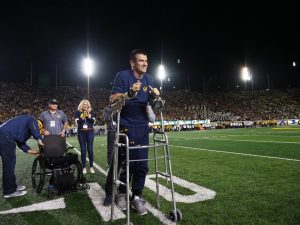 I wish I could take you with me to our classroom, ironically down beneath the stands of Memorial Stadium where the Cal Bears play.  I would introduce you to Rob. You might ask him, "how are you?" And he would look you in the eye, smile, and says, "Awesome."
It takes perseverance to lead with your best self.