Podcast: Play in new window | Download
Friends,
Have you been watching the new Pope? Like all great leaders — would that be YOU??? — he demonstrates a powerful sense of symbols to  model a way for others.  His actions remind me of the line attributed to the awesome spiritual leader, Mahatma Gandhi, "be the change you hope to see in the world."*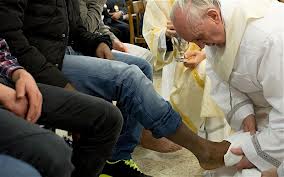 The pope has so far turned away from the gold cross to an iron cross, rejected a platform which raised him above the other cardinals, turned down the papal apartment for a humbler bishop's apartment, rejected the covered pope mobile for an open vehicle; and celebrated Holy Thursday services not at the grand Basilica at St John's Lateran at the Vatican but in a chapel in a youth detention facility, where he washed the feat of detainees, including women – a major break from tradition. He is the first to take the name of Francis (of Assisi), who was not a cardinal, not a bishop, not even a priest; and who was legendary for his outreach to the poor.
When he DOES these things, it multiplies the power of what he TELLS others to consider.  Here is an excerpt from a powerful account of his first Holy Thursday Chrism Mass, to which he addresses the priests of the Church:
Priests, he said, need to go the "outskirts" where there is "suffering, bloodshed, blindness that longs for sight, and prisoners in thrall to many evil masters." He added that God is not encountered "in soul-searching or constant introspection."
"This is precisely the reason for the dissatisfaction of some, who end up sad — sad priests — in some sense becoming collectors of antiques or novelties, instead of being shepherds living with "the smell of the sheep"," the Pope explained. "This I ask you: be shepherds, with the "odor of the sheep", make it real, as shepherds among your flock, fishers of men."**
If you're a champion of change, or if you passionately believe that there is a powerful "way" to work, live and lead, then I ask you:
How might you EMBODY your way?  How might people look at you — as many of us, some of us prone to skepticism look at this new pope — and say, "Wow. She or he has a viewpoint, a way, and they are really WALKING the walk; they're not afraid to put it out there, to break with tradition, or with social expectations!"  Can they see it in: the way you dress, where you hold your meetings, where you spend your time, how often you get out of the office, take risks, apologize; give away your time, your trust, your skills, your knowledge, your attention?   What do your kids see?  Your staff?  Your boss?  Your aging parents?  The lady at the checkout counter?
Pope Francis is hearkening back to St. Francis and to Jesus, in focusing on those excluded.  He's causing me to ask myself:  Where am I spending my time and energy?  Do I have the "smell of the sheep" about me or am I too safe, too comfortable, too caught up in my little world?
How might you model the way and thus:
Lead with your best self!
Dan
* It turns out there is a super-lively discussion of whether Gandhi ever said this precise line; there is no clear documentation of him saying or writing this.  However, he LIVED it and said things that were quite close (although more wordy and philosophical).  If you're curious follow this link: http://www.gandhitopia.org/forum/topics/a-gandhi-quote.
** Edward Pentin, "Pope Urges Priests to be Like Shepherds 'Who Smell Like Their Sheep,'" Newsmax, March 28, 2013, accessed on March 31, 2013 at: http://www.newsmax.com/Newsfront/pope-francis-chrism-mass/2013/03/28/id/496806.