Podcast: Play in new window | Download
Last week I wrote about one of the key lessons I am learning from The Sweet Spot by Dr. Christine Carter.
You'll recall that the point of her book — subtitled How to Find Your Groove at Work and Home — is to help her readers to understand current brain research in order to work more effortlessly and to find "flow" in a regular way in their lives.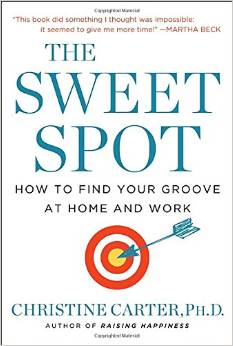 This week, it's a Readers-take-over-week. I will give away 3 free copies of The Sweet Spot by randomly choosing from among the "Comments" I get from readers. (Usually I get about 5 comments a week, so you probably have a good chance to win.) Come back and see the ideas that our learning community shares.
Whether you submit a comment or not, here's how to improve your leading week. Ask yourself: "What's the most important thing I can do to get myself to 'groove' my life at work and home?" Or to put it another way, "What gets you in your sweet spot?"
Here's one of the fairly frequent counter-intuitive thoughts from the book: Spend time doing nothing. Staring out the window, like you did as a kid in school when you needed a break from "Pay Attention," as Sister Mary Elephant would call out (with nods to Cheech and Chong and apologies to the amazing nuns who taught me in elementary school). No purpose. Letting your mind wander. It turns out that the brain has a (seemingly!!!) non-active cycle. Yet it is in that "off" cycle that we are doing critical processing. Give it a spin.
What are the most important things you do to get in your zone, to be in your sweet spot, to produce more good stuff with less grinding of gears and super-high RPMs?
In your sweet spot, you'll
Lead with your best self!
Dan