Podcast: Play in new window | Download
My friend Mike Tenbusch asked me if I'd write about his book in this space.  I honestly can't remember anyone asking me that before (although in 16 years of writing it, I'm sure someone has).  So, Mike is first. I have often quoted Kouzes & Posner in this space who write, "leaders go first." On its face, it's kind of a dumb line, because it sketches a visual tautology.  Of course leaders go first.  You can't lead a race from anywhere but the front of a pack, right?   But the authors mean by this line: leaders go first in taking risks, in exposing themselves to ridicule or rejection, to failure or isolation.  I couldn't reject Mike, though. I always want to follow Mike.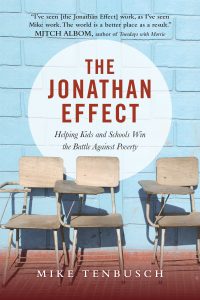 When he started Think Detroit with Dan Varner — explaining to us in our kitchen how he and Dan were eschewing their freshly minted law degrees to dedicate themselves to urban education — Jennifer and I wrote the second check to Think Detroit (Mike's mom had already led with her support).  We have admired his efforts in urban education ever since.
I am pushing his book, The Jonathan Effect, because I want you to consider following Mike.  I am going to.  I am nervous about following him again, but I think it's going to make my 2017 more satisfying and meaningful.  Maybe yours, too.
Follow where?   Into Detroit or Oakland or Delhi or L.A. or . . .
But first, let Mike bring you into his remarkable life — 30 years of passionate commitment to urban education, where he's done direct service, volunteered, researched and thought and read and challenged conventions. And where he's refused to let ideology or political correctness or his own poverty or moments of despair or anything else keep him from staying committed.  His eyes are wide open and he'll share the statistics that can make you feel hopeless, but he'll offer you a way out . . . to offer children a way out.
I started the book on the plane from Detroit to Oakland and finished it in an Uber to our home. Jennifer shielded me as I cried  in my window seat (not that I cared about being seen).  I was moved when he wrote about his dad (who had taught me freshman English in high school and whose challenging early life I had not known about).  I eagerly turned my Kindle's "pages," as he shared his story of discovery, and especially as he talked about a young man on the west side of Detroit he continues to befriend, on this man's "hero's journey." I felt alternately felt my indignation, hope and determination grow.
It's a leadership book.  Mike doesn't toot his own horn, but you can't help but be inspired. But it's one in which he is also leading the reader to lead, to take a risk, to move beyond sadness or outrage about the impoverished children in our segregated cities, to see a way out (not just for them but for us).
Do yourself a favor and check out a sample and see what you think.  It might be just what you need in 2017.  I'm buying copies for my church as I plan to share my friend Mike with them, hopefully to spread the message and the resolve to act.
I hope the season of giving lavishes joy upon you.
Talk to you in 2017!!!!
Dan