Podcast: Play in new window | Download
Friends,
I offer you a quote that knocked me over, a manly leadership lesson from it, and a then a more universal leadership lesson. Many – from Boston, hoops nuts, and mostly my age or older – need no introduction to Bill Russell. For the rest, a thumbnail: Bill Russell is a giant – literally at six feet ten inches tall. He was so skilled on a basketball court – especially as a  defensive presence – that his Celtics won eleven NBA championships in his 13 years (even Jordan's Bulls can't compare with six crowns). He was the first African American in the Hall of Fame, first African American NBA coach. He was also a presence in other ways, especially with his outspoken hatred of racism and his fearlessness in calling fouls, even on those – like Boston-area fans and media – who sought to befriend  him.  He never hesitated to speak out. Okay, that's the background.
Tomorrow Russell, along with George H.W. Bush and a handful of others will receive the Presidential Medal of Freedom. When asked whether it was the greatest honor in an accolade-laden life, Russell said it was "a close second," quotes George Vecsey in yesteday's New York Times. When asked what was a bigger honor Russell responded thus: "When he was about 77, my father and I were talking. And he said: 'You know, you're all grown up now, and I want to tell you something. You know, I am very proud of the way you turned out as my son, and I'm proud of you as a father.'"  Wow. To steal from Tip O'Neil, all love and pride is local.
This line bowled me over, as I was still reeling from a hit I took last Wednesday when I was reading Robert Bly's extraordinary work Iron John: A Book About Men
.  Bly, who has been convening, researching, and writing about men for thirty years, says that there is one idea that he has heard from men more often than any other, and it is this:  they have "a hunger for more father."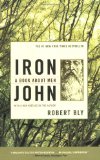 Bill Russell's quote suggested he was one of the lucky ones, for his hunger had been fulfilled. Bly offers countless stories of men, not so blessed, starving for fatherly attention – often late, even at the end of their lives. Like so many dimensions of men's lives, this is not something we men talk much about, but Russell and Bly point us in a critical direction – towards our sons of whatever age, and towards our fathers.  (Women, the men's story is not intended to exclude; instead, I welcome any comparisons and contrasts, but I also offer this as cause for a closer look at the needs of your boys and men.)
So, I opened by saying there was a more universal leadership issue, and it is this: Authority figures – starting with our parents – have extraordinary power. And I suspect those relationships often leave the followers with a hunger. Imagine the immensity of what Bill Russell was saying – his father's approbation ranked above a Presidential Medal of Honor! So, as parents, we have so much capacity to set a way forward and then to express the pride that allows – what? – what was Russell feeling? – pride, rest, ease, fulfillment, arrival? What a gift we can offer our children as they make their way and live lives of which we are proud.
I would add that bosses – and especially the big bosses – often have great unused capacity to personally acknowledge the individuals on their teams. I remember as a teenager, how I dramatically elevated my commitment to my job the day the manager expressed appreciation for my work ethic.  I'll bet every reader of this RFL could tell a story of pride about some moment when his or her work was recognized by a "higher-up."  If you want to build trust, as we've been talking about the last few weeks, a few attagirls and attaboys wouldn't hurt one bit. Tell someone, "I'm proud of you" this week as you:
Lead with your best self,
Dan