Podcast: Play in new window | Download
Friends,
Pop quiz:  What do the following five firms have in common?
Ernst & Young
Plante & Moran
Deloitte
Pricewaterhousecooper
KPMG
Easy, right?  Top accounting firms in the country – in fact the top four, plus Plante & Moran (the great Michigan-based firm – 12th in the country and steadily growing).  They count the beans, watch pennies, and search for ROI.  But what else do they have in common?
Answer: They are all – again – on the Fortune magazine list of "100 Best Companies to Work For." There is a major lesson here: "doing good" by your employees helps you "do well" with your bottom line.  This is not some touchy-feely, goopy ya-ya.  Indeed, the research conducted by the Russell Investment Group demonstrates that these "100 Best to Work For" have consistently outperformed the S&P 500 by an order of three to four to one.*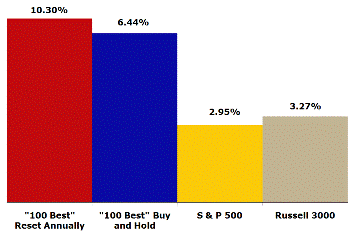 I'd suspect that for every CEO in America two questions should follow heavily on the footsteps of these dramatic facts:  First, how do you know if you have such a company?  And second: How do you become (more) the kind of company that people want to work for?  The answer to the first question is: apply to become such a company, and they will ask your employees (those anonymous scores account for 2/3 of the judging), and share your results with you.  You can also check out the Great Place to Work Institute to learn more and to receive advice from that firm on what it's all about.
And what's the secret to these companies?  So easy.  So deceptively easy.  In a word: it comes down to T-R-U-S-T, trust.  Let's explore that more in the weeks to come.
But maybe ask yourself this week these unusual questions:
(1) Why DO people trust me?
(2) What do (different) people see that limits the amount of trust they have in me?
The answers are vital as you strive to
Lead with your best self!
Dan
* Chart from http://www.greatplacetowork.com/what_we_believe/graphs.php