Recently on "Everyday Leadership" Dan has Michael Patrick Sheils on to discuss his new book "Invite Yourself to the Party." Hear how Michael made his way through life and his career by being in the right place at the right time. Learn how crashing an event and speaking to the right person could change your life, or make for a great story.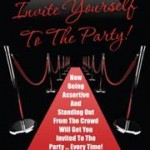 Kathi Elster and Kathrine Crowley will also join Dan to discuss this weeks topic "The New Guy." They'll discuss what it's like at a new job, and being promoted as the new boss of your peers.
We will also have Lansing political reporter Tim Skubick. He has been reporting on Michigan government since 1969 and will discuss how he thinks the capitals new guy, Governor Synder, will do in office.