Book Dan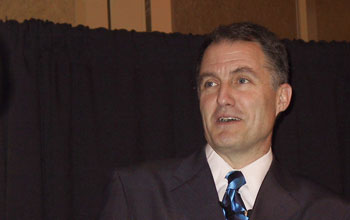 Dan delivers keynotes and gets results based on this vision: Every single participant will walk out the door with renewed energy and specific ideas to lead with their best self.  They'll have greater focus as they to lead: at home, on their team, and in the broader world.
The most common descriptors of Dan's keynotes: really interesting, totally authentic, practical, fun and funny.
Typical audiences that rave about Dan as a keynote speaker:
• Women – who love his perspective as the governor's husband
• Educators – who can tell he has taught and been an administrator
• Public sector leaders  – because he has worked in federal, state and local governments
• Credit unions  – because he's a member who loves their philosophy and attention to real people
Why hire Dan as your keynote speaker
• Powerfully smooth
• User-friendly
• Speaks to your interests and needs
• Sensitive to your budget
Popular Topics – Dan has captivated audiences with these popular topics (but he always customizes speeches for the audience at hand):
"Leaders of Learning" – Dan energizes educators
"Public Servants – Public Leaders" – Dan combines his love and admiration for the work of government workers with his best leadership practices.
"Leading When the Foundations are Shaking" – Dan shares specific leadership lessons for people whose businesses are facing life-threatening change.
"Making Your Place A Great Place To Do Great Work" – Dan gives an insider's view of what's most important to know about Fortune's 100 Best Companies to Work For
"Great Leading Women – and the Men Behind Them" – Michigan's first "First Gentleman" shares practical observations about the strengths and challenges of women who lead and the new horizons for men
"Your Kids and Family – The Most Important People You'll Ever Lead" – Dan taps his personal experience as the "lead parent" and shares wisdom gained from hundreds of interviews of writers and experts on parenting
Book Dan to speak:
Or email Dan at dan@danmulhern.com.