Dan Mulhern's second book Be Real: Inspiring Stories for Leading at Home and Work continues his remarkable journey showing us all how we can lead more effectively – and enjoy it more.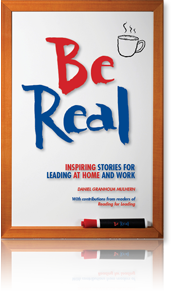 In Be Real, Dan offers short written pieces that break open leadership and offer practical angles on how to do it better. Although he's married to a Governor and has functioned in very high level settings, Dan focuses on the aspects of leadership that cut completely across the various levels of authority. Thus, it comes as no surprise that he begins this book with a chapter on Family, which he calls "the most important place where any of us will ever lead." From there he gets to key practices of leadership through chapters on ego and on energy, on challenge and on spirit – always mixing inspiration with authenticity and common sense strategies.

Dan can write credibly for those he calls "everyday leaders," because he brings a nearly unbelievable mix of experiences to his writing. For instance, he has:
Worked at jobs as: busboy, caddy, newspaper boy, opinion survey person, union steel worker, non-union shop worker, office custodian, graduate teaching assistant, inner city camp instructor, college speech teacher, high school theology teacher, office administrator, youth services director, executive assistant to county executive, congressional campaign manager, district administrator to a congressman, inner city center director, coach, consultant, entrepreneur, radio host . . .
Presented and/or consulted to Little Caesar's, Facebook, Cisco Systems, Google, Ford-UAW, Chrysler, Lear…
Mentored three different disadvantaged boys over 12 years time
Chaired the Spouses Leadership Council of the National Governors Association
Run three marathons (ouch, yes, the official 26.2 mile distance)
Embraced the support role to his wife Jennifer Granholm, and exulted in the "men's liberation" that allowed him to be the lead parent of their three children.
"There is no one better at presenting the life of everyday leaders than Dan Mulhern.  No one. Be Real is full of real stories of real leaders doing real things. The stories will make you laugh, cry, and cheer. Be Real is a must-read for every citizen-leader."
Jim Kouzes, co-author of the leading book on leadership, The Leadership Challenge
"As a business owner with a mission to make life enjoyable and productive for our staff, customers, vendors and community, I found Be Real very helpful, insightful and enjoyable.  This is a book that I will certainly go back and re-read.."
Curt Munson, Founder and CEO, Good Form Running and Playmakers Sports