Podcast: Play in new window | Download
Friends,
"What's required appears to continually interfere with us getting what we want!"
In an average day, I have a whole lotta wants:
I want to be on time, and I am "required" to be in a traffic jam.
I want my son to realize something obviously important – e.g., perspiration trumps inspiration – but he resists.
I want my students to "get past" the nitty gritty to see the big picture.
I want my wife to hear something or say something  just the way I would.
I want my team to get over the stupid office politics.
I want everyone to see the presidential election the way I see it.
I want my coaching clients to seize on my advice and report back on their breakthrough results.
Yep, it — or yes, I! — sure look stupid, don't I?!!!  Why in the world would — let alone why in the world should — everything bend to my ideas and will? And yet I harbor these "wants" and I resent what Michael Brown in the quote above calls "what's required."  But I so love his idea — that these annoyances are required — and so I share it with you briefly.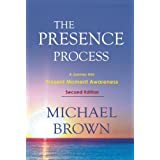 In The Presence Process, a totally life-changing book, Brown suggests that what's-here-now is "required" for us.  So to use my examples above:  Maybe that morning traffic held something — e.g., a reminder to me to breathe and stay attentive. And maybe I (or some part of me beyond my controlling ego) required that my son not be listening to me…so I could see him as okay, perhaps, and not in need of fixing?  And maybe Mr. Big Picture requires — really needs — those nitty gritty students so I appreciate how others learn in different ways, so that my blind spots emerge into view.
I vastly oversimplify the ideas and guided practice in this magnificent book, but in the 12 weeks since I started this book and the accompanying practice, I have experienced 120 if not 1200 times how my ego's battles with what's here cause me to miss what this-here-now is providing, is asking, is offering me.  The obstacles are required if I am to truly engage now and grow and serve well.
If you can make this adjustment just a few times today, things could look better, easier, more interesting and alive.  See if you can catch some moments when you can't have what you want and ask, "huh, I wonder why this is required?  What's really here for me to experience?
So, what am I required to hear from YOU?  I'm open to it all, as we
Lead with our best selves,
Dan
*Brown, Michael (2010-06-01). The Presence Process – A Journey Into Present Moment Awareness (Kindle Locations 3359-3360). Namaste Publishing Inc.. Kindle Edition.  Brown's book leads into a 10-week meditation program.  You need not have meditated before to use the process.  I am deeply grateful to my cousin Bill Taylor who recommended it to me.