Podcast: Play in new window | Download
Friends,
At two he was swishing NERF balls in our front foyer on a chair five feet from the plastic hoop…one, two, three…seven times in a row.  I was laughing and cheering and he was giggle-chortling with delight.  He's 13 now and he's still got a nice shooting touch. Oh, but he's a reading machine.
She loves interior design and is well known for it in Western Michigan,  and she loves her kids more. On the parent council she bemoaned the barren look of their school's front yard. They said, "why don't you fix it," she said OK and asked if they were kidding when they gave her $100 to get the job done.  Maybe those school leaders knew what a person's passion can do when they threw down the challenge and the C-spot. Maybe they knew Margaux Drake.
What they couldn't have known was their challenge stimulated the creation of the Giving Gardens. Margaux knew she could do little with $100, but figured she had some extra plants, seeds, and clippings . . . and so did her friends. And she realized that it was literally true: The gifts kept on giving, as she took the clippings from her kids' school's gardens to a next, a next, a next. She's in double-digits of landscaped schools now, and has branched off, joining us in Detroit for the planting of her 7th, 8th and 9th Habitat for Humanity homes. She rented a U-Haul from Grand Rapids, brought herbs,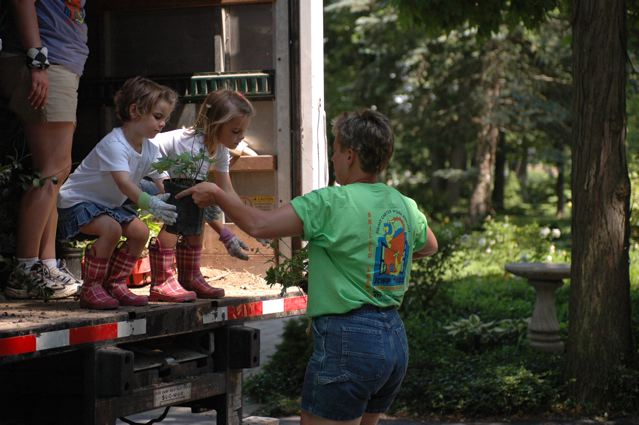 bushes, plants and plans – including clippings she'd hand-picked from Martha Stewart's personal gardens. She adorned those solid Habitat homes with gardens anyone could be proud to have.
Back to Jack for a quick sec. He still plays basketball, but I have to nag him to the driveway. On the other hand, I need less than a feather to push him towards a book. Yesterday, we were reading aloud The Golden Mean, a fascinating historical novel about the relationship between Aristotle and Alexander the Great.  When I paused to test his vocabulary or history he'd cause me double-takes at how much he knows at 13-years old.  That's what pursuing a passion will do:  His love for books reminds me of Margaux with her greenery.
Personal passion multiplies ouputs.  Discover it in son, daughter, student, staff, or volunteer. Lay out a challenge for them to exercise it.  And get out of the way. By contrast, don't you wonder how much energy we waste twisting square pegs into round holes, as we pound people into mis-fitting job descriptions, or unconsciously drive our kids to follow our passions instead of their own?
Look for people's natural passions, and challenge them to use them, so they'll Lead with their best selves,
Dan
P.S. This week on Everyday Leadership Radio we talk about passion with Margaux and other social entrepreneurs – like Mike Tenbusch and Dan Varner – who have made big things of nothing . . . but passion.